Today's news round-up: now with pictures!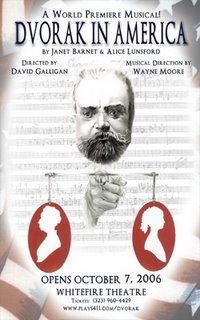 Opening this weekend:
Dvořák: The Musical!
"Young love, mature love and illicit love are all a part of the summer in this new world."
A bushel and a peck, and a hug around the Czech....
Remember this painting? The one expropriated by the Nazis? The one recently returned to the family of its one-time owners and
then sold for $135 million
? Know who's
getting a forty-percent cut
of that?
Arnold Schoenberg's grandson
.
Speaking of which, I suppose if the Pentagon ever extends "don't ask, don't tell" into the realm of compositional proclivities, at least Salvadoran serialists
will still be able to serve their country
. (Seriously, every Spanish-English dictionary I have says "atonal" is the same in both languages. Can somebody enlighten me on this? And where do I get one?)
"Tom sure gets around since he learned to play the accordion."
Hey, they don't call it a squeezebox for
nothing
, honey. (With special thanks to
Lisa Boucher
and
Katie Hamill
.)